Swimming Technique and Multisport Coaching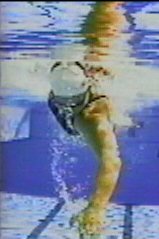 At the pool, do you find yourself wondering, "How can those old timers swim past me every fourth lap?" From your perspective you're stronger, younger, more fit and way better looking than those other folks. But they're so much faster than you! How is that possible?
Well, in case you haven't figured it out... as Maria Muldar said in her hit song from the '70s,"It's not the meat, it's the motion."
In other words: it's all about technique. With it, you're the one everyone admires. You make it look so easy. Without it, you're just grinding out the yards or miles, and maybe headed for an injury.
With better technique, you can learn to move more efficiently, with more speed, less energy and less risk of injury. It's a matter of having the right attitude and the right coaching to help you to get from where you are now, to where you want to be.
Sponsors
Note: Breakwater athletes are eligible for discounts from sponsors. Contact Coach Bill for ordering instructions.