Video Player Tips
Each video clip has a list of comments that you can display by clicking either the Turn Comments Off button, or the Turn Comment On button (depending on whether or not any sets of comments are turned on).
Depending on the program, all comments may be turned on or off when you open the webpage. Playing a video with all comments enabled means that sets of different comments - "posture" comments and "arms" comments, for example - may be interspersed with one another.
To view a single set of comments at a time, click the Turn Comments Off button to display the list of comments in a pop-up Comments window, which might look something like this:

The Comments window displays the name of the coach making the comments (ususlly me: breakwaterbill), the date of the comments, and some sort of label for the comments (for swimming, usually posture, breathing, rotation, arms and kick, as illustrated above).
Click Deselect All to turn all comments off, and then click the ON button for the set of comments you want to view. For example:

Close the Comments window and click the Play button to play the clip with the selected comments.
To view the raw clip (with no comments), simply click Deselect All, close the Comments window and click Play.
To view a specific comment. You can jump to any frame containing comments by clicking on the thumbnail for that comment. The thumbnails are just below the player window. If you hold the mouse pointer over a thumbnail, its location in the clip displays. For example, the third thumbnail below indicates this comment applies to a frame 2.107 seconds from the beginning of the clip: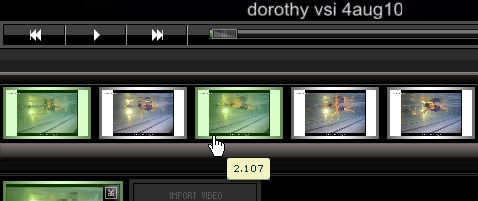 By clicking on a thumbnail, you can jump right to that comment. Note that only the thumbnails for the active comments display (use the Turn Comments On or Turn Comments Off button described above to change what comments are available).
Player Controls
Click anywhere on the player window to pause the player (if it is playing) or to advance one step (if it is paused). Use the toolbar controls as described below.

| | |
| --- | --- |
| | Click to display the previous frame or hold down to play in reverse slow motion. |
| | Click to resume play. This becomes a pause button while playing. |
| | Click to display the next frame or hold down to play in slow motion. |
| | Drag the slider to move to any location in the clip. |
Comments from Additional Coaches
If another coach you work with has an account on the UpMyGame website, they will be able to add comments to these clips, unless you have asked Breakwater Sports to keep these clips private (to you and Breakwater Sports).